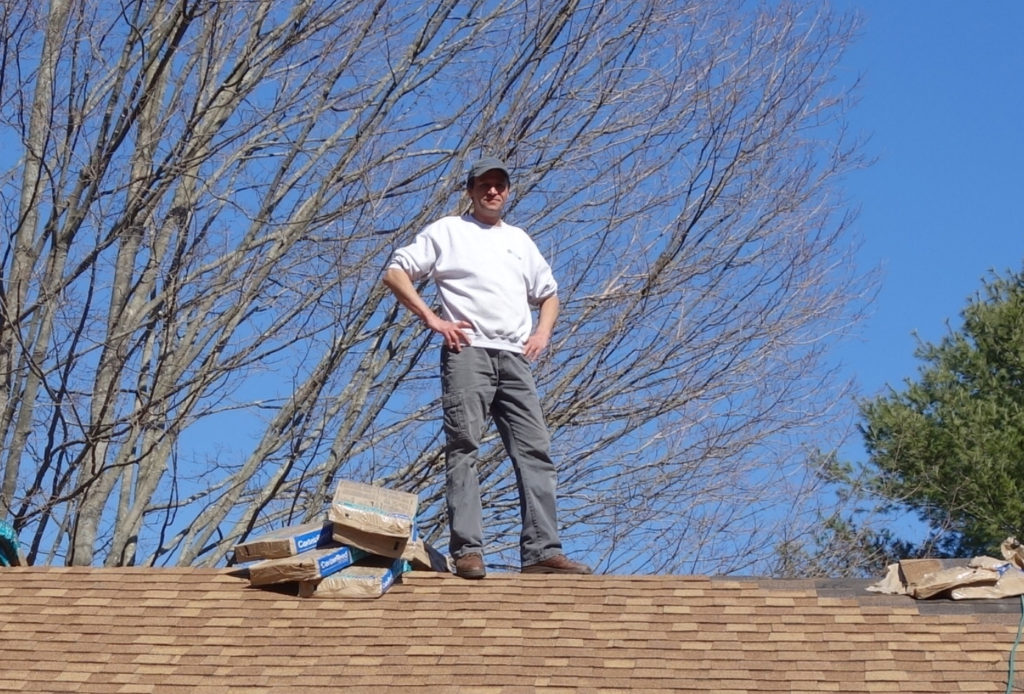 Photo of J.J. Haddad, owner and founder of Home and Garden Construction LLC
Framingham, MA., April 21, 2019
JJ and crew took on the daunting task of renovating our second floor. The project was centered on the bathroom with the goal of expanding its footprint and separating shower and tub into two fixtures. During planning this quickly became an overhaul of the floor plan which ultimately made much better use of our square footage and allowed us to (1) increase our closet space, (2) move the laundry facilities upstairs and (3) create additional access points between rooms.
Once again, Home and Garden Construction has delivered beautifully. Approximately three-quarters of our residence has now been upgraded by JJ, giving this nearly 60-year old house a much more modern feel and a level of comfort we did not believe was possible.
Brady & KC S
-Sudbury, MA.
We hired JJ to replace the tiles in a 50 year old bathroom. The job was challenging and came out absolutely beautiful. JJ also did some other minor jobs as well, all at reasonable prices and he spends meticulous care to make them come out right. I highly recommend him for maintenance and modification work around the house.
Alex R.
– Newton, MA.
Using JJ and his crew at Home and Garden Construction was a wonderful experience for us. JJ consulted with us from the beginning to come up with a renovation project for our downstairs bathroom, kitchen, and back hallway that worked for us in terms of our price range, had thoughtful ideas on how to relocate a window and put a shower into a small bathroom space (he had to construct the latter himself and it came out beautifully), and was a pleasure to collaborate with from beginning to end. JJ was responsive to any calls or emails we sent, he and his crew always showed up when he said they would, and he kept us up to date in regard to the kinds of delays that were unavoidable given the necessary juggling of plumbing, electrical, tiling, and painting work, inspections, and much more. It's worth noting that our home is over 100 years old and that the work JJ and his group did not only was of a very high quality but also kept the "feel" of our spaces in line with the house's character. All of this is to say that we would use Home and Garden Construction again in a heartbeat, and can't recommend JJ and his team more highly.
Deborah and Jeffrey F
– Framingham, MA
From start to finish working with JJ and his team was a fantastic experience. His communication is excellent and he conducts himself with honesty and integrity. Our kitchen is on the smaller size, but we were hesitant to take down any walls to expand it because of the age of our home. However, JJ offered creative solutions that helped us maximize our existing floor plan and nearly double our cabinet space.
In the middle of our project, our upstairs bathroom flooded and poured down into the kitchen. I was in a complete panic as our cabinets had just been installed. JJ was at our house within 15 minutes at 9:00pm on a Sunday night to help us clean up and assess damage (miraculously none!).
JJ kept us appraised of every step in the process and quickly looked to find affordable solutions when the unexpected was encountered. His team is polite, professional and hard working with a precise attention to detail. His team was at our house nearly every day and exceeded our expectations. They even came weekends.
We were given a timeline of 6 weeks and I mentally prepared for 8 weeks having heard stories from friends of their home renovations.Clearly, they had not used Home and Garden Construction! JJ finished our project in 4 weeks which allowed us to host family from out of state for the holiday weekend.
We could not be happier with the final product and are so grateful to have found him! We highly recommend JJ and Home and Garden Construction. We will be using him for any and all future home projects.
Kara and Ian Fink
– Needham, MA
Working with JJ Haddad of Home and Garden was an excellent experience. He and his crew are professional experts who know their craft and get the job done efficiently for a reasonable price. They completely demolished and rebuilt our bathroom in a month's time. The tile work was well done. The plumber and electrician were excellent. They were polite and respectful while working inside our home. We strongly recommend JJ and his company.
Kay and Steven
– Framingham, MA
I love the results of the remodeled main bathroom. It looks great and everything is updated and working very well. The best part of the project was that you were always available to answer my many questions, either by phone or text, or in person.
JJ's crew did a wonderful job with the tile; the plumber worked magic with the plumbing; and all went well.
Your assistants are polite and helpful.
Thanks for a job done well. We'll see you for our next project!
Sydney and Joe
– Brighton, MA
JJ created an incredibly beautiful new opening in my kitchen complete with a bar level countertop. He matched the new granite with the existing kitchen counter perfectly. He also creating moulding around the opening to perfectly match the rest of my apartment. JJ and his crew were careful to cover my floors and to keep the apartment neat during the renovations. He was timely, very responsive, and an all around pleasure to work with.
Amanda Chapman
– Acton, MA
Attentive, courteous, expert, friendly, helpful, honest, knowledgeable, professional, quality work, reliable, tidy, and timely, all describe Home & Garden Construction.
This has been my experience through multiple jobs performed by Home & Garden Construction, the last of which was the biggest: a large 700 s.f. addition.
Additionally, my experiences with Home & Garden Construction move me to second the other testimonials on their website. It is exactly who they are.
Yosef Y. Polter
Acton-Concord Chabad
– Ashland, MA
After receiving a glowing recommendation from a co-worker, we engaged Home & Garden Construction to add a full bathroom (outfitted with accessibility features for my elderly father-in-law) and fully remodel an existing bathroom in our house. JJ brings a significant amount of experience and during our first meeting, he quickly grasped our goals and began helping us with design ideas to maximize the space and functionality. While not the lowest quote, we felt that JJ had most fully understood what we wanted and had likely provided the most accurate quote.
The entire project was completed in approximately 8 weeks – right on time. This was surprising to me given the difficulty my wife and I had making decisions. JJ was very patient and worked hard to keep the project moving and provide us with the information and time we needed to ensure that we were getting what we wanted.
JJ's crew are skilled craftsmen and managed to do high quality work even as they were dealing with the chaos of our household (several cats, a dog, gerbils, and three children). We very much appreciated their efforts to ensure that our animals didn't escape even as they did their work in such a professional manner. The other contractors JJ brought onsite – electricians, plumbers, and painters all went about their work professionally and left us with quality work.
We couldn't be happier with our two new bathrooms – and we would not hesitate to recommend Home & Garden Construction for any job.
Andy L. & Susan B.
– Framingham, MA
We first worked with JJ in 2014 on a small project (bathroom renovation). We were immediately impressed by his professionalism and attention to detail. In early 2016 we (finally) got serious about renovating the kitchen in our 50-year old house. The project grew to cover three rooms, including the family room and dining room. JJ was instrumental in every possible step of this daunting process – planning, design, budgeting and execution.
Furthermore, we were delightfully surprised when the entire project was completed within both the promised schedule and budget. We now have exactly the type of kitchen, serving and entertaining area that we always wanted and have received countless compliments from our friends and family. Even today, we remain amazed by the finished product and are extremely grateful to JJ's entire crew for their hard work and dedication to the home we love.
Brady S.
– Marlborough, MA
I needed a bathroom built in my house, and Home and Garden Construction did an amazing job on the project. JJ Haddad came up with a construction plan, helped me pick out materials such as shower tiles, and got all the necessary plumbing, electric work, and construction done within a couple of months. The new bathroom is the fanciest one I've ever had, and JJ's team also fixed a number of other things in my house that were not even related to the bathroom project. I'm very happy with the final result.
Jon B.
– Newton, MA
JJ and his crew are fantastic. They have painted for us, removed and replaced 85% of the cedar shingles on our home, repainted the outside of the house, installed lighting and garage doors. Our 80+ year old home looks great thanks to Home and Garden Construction. You name it, they do it. And they do everything well with incredible attention to detail. They give every job 110% effort and are completely trustworthy. I would not hesitate to recommend them for any project inside or outside your home.
Lev F.
– Lexington, MA
We have been working with JJ Haddad and his construction firm Home and Garden Construction (HGC) since 2005. We first hired HGC to rebuild our deck in 2005. He replaced a decrepit, rotting wooden deck with a larger, more interesting deck and stairway, which he built exceeding code requirements. Ten years later, in October 2015, we celebrated our 25th wedding anniversary with a dance party on the deck, and there must have been 30 people on the deck at any moment that evening dancing!
Since 2005, we hired HGC to do so many different renovations of our home, we feel as if he re-built our home, improving it every step of the way. Projects during the last 11 years (up to today, April 2016) include major renovation/construction projects such as the conversion of a 3 season screened porch to a fully insulated, heated (radiator), cooled (separate AC zone) beautifully lit sunroom with vaulted ceiling, sliding glass door to the deck, 7 big Anderson wood windows, a big bay window for houseplants, two skylights, stone tile floor with radiant heat, and interior French doors leading into the dining room. It is one of my favorite spaces to rest, read, play the piano and have private conversations surrounded by my plants.
Another major renovation HGC did for us was a kitchen remodeling which involved removing cabinets, ordering and installing new ones along with reusing a few of the taken down cabinets, moving a closet, installing new light fixtures.
A third major project was the renovation of our master suite, which included the removal of boxy closets, vaulting the ceiling, reinsulating the walls, installing new lights, and replacing three small old windows with six beautiful Anderson wood windows.
Smaller but significant jobs that he has also done on this house include re-roofing the entire house, painting the exterior with a paint job that has lasted 7+ years, many interior painting jobs, including the garage floor, installing new tile floors in two bathrooms, retiling shower enclosures.
JJ has the eye for tasteful design and flow. He has impeccable craftsmanship and takes pride in his work, and is a perfectionist. He knows all the building materials available, all the building codes, and he is choosy about selecting the best suited for each job.
He's become part of our family, and he treats our home like it is his home, with every door closing perfectly, every window sliding smoothly, everything working perfectly, better insulated and energy efficient. I honestly think that had we not met JJ and HGC, we may not have stayed and enjoyed our home for so many years, but rather, we might have chosen to move to another house. JJ and HGC transformed our house into a beautiful, functional, comfortable home that we are proud of entertaining in, including hosting a wedding. We will never be able to thank JJ and HGC enough for all the hard work, the design ideas, the advice that he has given us all these years.
Mark L. and Gwen W.
– Brookline, MA
Jihad Haddad and his team from Home and Garden Construction did their first job for us in 2001 and since then we have asked him repeatedly to take on projects of increasing scope and importance.
They built a sunroom for us, installed walkways in our yard, outfitted a fireplace with an insert, built a bay window, put a French drain and sump pumps into our basement, and finally, this last year (2015), did major renovation and construction work in a run-down house which we had bought, which they turned into a thing of beauty.
All of this speaks for itself.
Let me add that Jihad does a thorough job with whatever he takes on, small jobs or major construction work. He is experienced and will find a solution for the most challenging project. He knows what he is doing and takes pride in the finished product. We recommend him highly.
Barbara E.
– Framingham, MA
Last year my roof was pelted with hail. I wasn't aware of the damage until Home and Garden Construction alerted me to it. J.J. walked me through the process of dealing with the insurance company and then replaced the roof. Their work is exceptional. They came in four days under what the insurance company predicted the construction time should be. They were fast and efficient and left the surroundings in better condition than when they started. (see photo top of this page)
David R.
– Sudbury, MA
We used JJ and his company, Home and Garden Construction to replace our roof as well as do some other work inside our house. From the very beginning, JJ was extremely responsive, attentive, and very honest. He returned every phone call in a timely manner. He is extremely knowledgeable. We had three other roofers come to look at replacing our roof and JJ was the only one who suggested that a certain section needed additional structural support from within the house simply due to the age of the house. They were very conscientious in cleaning up everything inside and outside the house. He also suggested a wonderful color that matched the house and would not be too hot in the summer. We are already planning on hiring them back for more work. They did a fabulous job across the board. We have already started recommending him to our family and friends.
Linda and Bart R.
– Newton, MA
I highly recommend Home & Garden Construction as a contracting company. Home & Garden Construction built a large one-room addition for us, which required detailed architectural plans, including a new roof and upgraded AC and heating system. Jihad, the owner, and his team did everything he said he would do and more. His work was consistent, timely, solution -oriented, and of the highest quality. Jihad was always reachable by phone and responded to any requests within minutes. Whenever we hit a decision point, whether it were in regard to type of building materials to use or design concerns, Jihad presented many different options, with detailed rationale and recommendations. His team was always pleasant and more than helpful, as were his subcontractors. Jihad stands behind all his work, and follows up with all the small concerns and details that are common after a job is in the finishing/finished state. We plan to work with Jihad again in the spring on another project.
Miriam B.
– Concord, Shirley
We have worked together seasonally since 1998. During these sixteen years you have substantially renovated two residences: projects included the new construction of two complete kitchens, eight bathrooms, converting 2,500 square feet of raw basement space into a finished office, and innumerable paint, landscape, and driveway improvement works. It must be pointed out that most of these jobs required you to act as general contractor and here you excelled; indeed, we remain clients of the plumbers, electricians, HVAC, plastering and floor people you've introduced over the years.
It is worth noting that our current residence, built c. 1806 and including an active equestrian farm, has required two more skill sets, which you've demonstrated with your usual competence: the construction of a 100 x 80 arena and numerous smaller projects involving barn work–water, electricity, and other improvements as well as internal updating of an ancient house, making it livable while preserving its historic character. Not easy for the most skilled professional, but well within your kit.
We cannot close this recommendation without noting something else. In 2003 and again in 2006, during the wars abroad and when my then job took me overseas, you and your brothers worked on the house and kept an extra eye on my family. That gave me a level of comfort not easily described in a recommendation. It created a genuine, lasting and deserved friendship.
I would recommend you for complex contracting work and, should you ever run for office, vote for you without thinking twice.
Richard F. Miller
– Chelmsford MA
I employed the construction services of Home and Garden Construction from September 2003 through February 2004. Jihad Haddad, Owner, and his team worked tirelessly and efficiently from day one through to completion.
They were polite, courteous, and always kept my wishes at the forefront of their tasks, while offering creative design suggestions during the entire job.
I had never renovated a home before, and this was a huge undertaking. I was more than pleased with the final outcome of the interior custom renovations and the addition.
Jihad is a diligent worker and business owner. I trust him and his team explicitly. They are dedicated in what they do and take great pride in offering complete customer satisfaction. The final product far exceeded my expectations, making my house into a home.
I highly recommend Home and Garden Construction for all of your home improvement, upgrade, and addition projects.
Heidi R.
– Weston, MA
My husband and I completed building our dream home in 2007. A 5000SF custom-designed, eco-friendly, post and beam cedar home that received a Gold Standard certification for energy efficiency.
In building a post and beam home, it is so very important that the builder chosen is precise and experienced in working with weight-bearing wood beams and the flow of open floor plans.
Our builders JJ Haddad and his brothers, Murad, and Ibrahim are all superb craftsmen in their own right. Whether it be wood, stone, or tile work – the outcome was remarkable. The 24-ft granite fireplace, designed and created by JJ, was a stunning focal point for our beautiful home.
As the construction manager, JJ was amazing to work with. His integrity, attention to detail, and pride in his work was realized in every aspect of the project. No problem was ever too difficult to solve. He was dedicated to completing our project in a timely manner, prompt on a daily basis, and always kept the construction site safe and tidy.
On those occasions when a condition arose where we required assistance visualizing various construction or design details, JJ was a master at creating mock-ups that easily allowed us to envision the final product and expedite our design decisions.
We found JJ to be well-experienced in working with the local planning boards and building personnel to move our project along efficiently and smoothly.
During the construction of our home and after its completion, we contracted JJ to complete various landscape/hardscape projects – rebuilding a large stone retaining wall, installing a stone patio & BBQ pit, gardens with low-voltage lighting, and a granite walk-way at the front of our home that mirrored the granite fireplace in our striking Great Room.
There is just so much we could say about JJ and his team, but most importantly we can share from experience that expectations will be exceeded and those fortunate enough to work with JJ and his team will end up with a beautiful new home, renovation, or landscape project.
If we were to do it again – Home and Garden Construction would be our #1 choice.
Debbie & Bill
– Acton, MA
I have used Home & Garden Construction four times for significant projects: Home expansion, exterior house painting and repair, vinyl siding (on a different house), and other. I have been very pleased with them each time. They show up when they say they will, they are honest and friendly, they clean up afterwards, they have good ideas, and they are expert at what they do. They are simply the best. I highly recommend them.
Yosef Y. Polter
Acton-Concord Chabad
– Framingham
– Home & Garden Construction painted the interior of my home. They were careful and thorough and completed the job in the time frame they said they would. They are top-notch professional and I highly recommend them.
David R., Framingham